Joe and I were talking the other day, and it hit me that our 1 year anniversary living at our house will be next month. April was a crazy month for us, with my losing my job a few days after we moved here, it was scary.
Since moving here our lives have changed so much! In July we found out that we would be parents, and here we are in March and he's here with us! The first thing that this house needed was PAINT. They had every single room painted a ugly ugly beige color, and the played out red accent wall in the livingroom. We are still working on the finishing touches. Since Joe hates painting, I was the one doing most of it. Needless to say with the pregnancy and the short bout of job less induced depression, I just didn't have it in me to continue painting. But now I am back! And with it comes our next project. Getting rid of these hideous and filthy, dusty carpets! You can get a peek of them in the picture below.
On Saturday we stopped by a local flooring showcase room or whatever its called, and picked out our favorite samples. We went with these three (By the way, we are going with the Laminate wood flooring, not hardwood). We chose dark, light, and medium tone. I really like the medium (last one to the right), but Joe and a friend like the light wood (middle). What do you think? I just don't want the house to look small or too dark. Our walls are light colors.
I've been googling...
this is a sample of how the flooring on the right (chesapeake walnut 2) looks installed.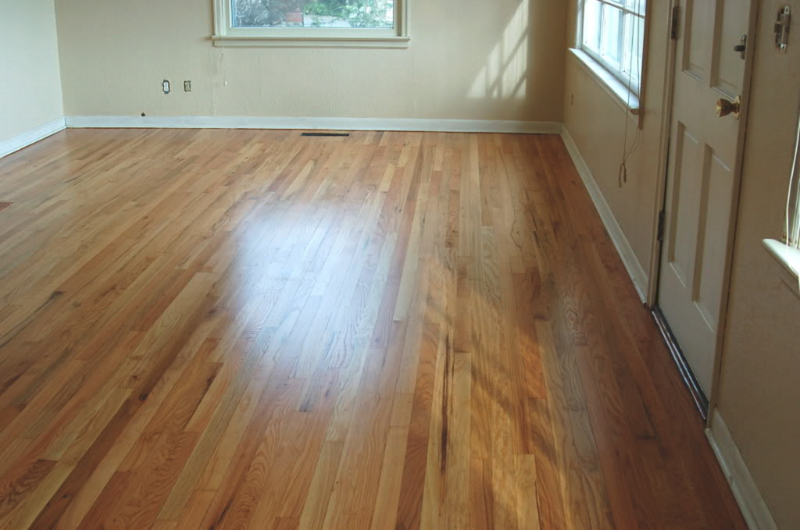 this is a sample of the flooring in the middle (tanned oak 3)
I wont even post the first one because it no longer is in the running. But if you're wondering the color is Chocolate Cafe Rosewood U1312. Its too dark. Its something that I'd like for a few weeks and then want o-u-t--OUT!
To be continued...