Yesterday I was driving home from work and the outlets, and I saw 2 horse and carriages and couples inside of them, on their way to their proms! It was so cute! And I couldn't help but to look back on my very own prom experience. And, I want to share some if it with you.
I was originally not going to go to mine. My senior year was what I never thought that it would've been, but that's a whole other story. And I remember being on AIM one night, and my best friend Xenia hitting me up telling me that Hector, a class mate of ours, asked her if I would want to be part of the couples that were going in the limo with him. I thought and thought about it. After much convincing and insisting from my friends and their offered help I agreed. Next, was to find a date! One of my closest friends (still to this day) said that he would take me. I was kind of beating around the bush to him about it lol, I am glad he got my hints! Now, unto dress hunting and all that good stuff. I went by myself. My brother dropped me off and I went on the hunt. I was never really into bright colors for my dress and I didn't want something that was "in" I wanted something timeless, that way I would always look back and say, "I'd still wear that today!" as opposed to "That was the style back then." I found the dress! It was (if memory serves me right) $120. My mom got it for me : ) I was luckily working a job then and paid for most of my limo, one of my close friends paid for the other part of it. I went to MAC at the Roosevelt Field Mall and got my make up done.
Xenia walked to my house and helped me get ready. I remember telling her how sad I was that she wasn't going to go. And, how nervous I was. I was so nervous that I almost backed out! But, being the greatest bestie that she is, she wasn't having it! She took pictures and pictures of me. And, Xenia, thank you so much lol, Lord knows my mom would've probably cut my head off in them, and God knows what haha (I don't think I had a digital cam yet, it was 2004.) When I got picked up, I was the first person! Well, with Hector lol. And the rest is history.
I had a great time, and I don't know if you're reading this Jamal, but thanks for being my date. You were a great one! We got home around 6 am lol, and I walked into the house and said good morning, and a , don't wake me up, I'll wake up on my own lol. Anyway, here are the only pictures that are uploaded on my photobucket. The others are in my personal album. Idk why the quality of these is the way that it is, hmm.
-------------------------------------------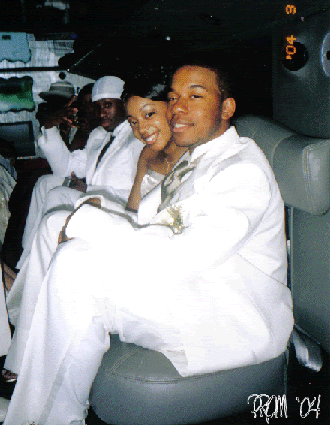 My dress was an ivory color, with gold detailing on the corset area. I wore clear strap shoes, and had a simple gold drop chain with little "diamonds" which I still own! It hasn't even changed colors lol. Got my money's worth huh! And my name ring : ) My dress was a size 4 lol, oh the good ole' days, before I came into my womanly body haha. My oldest brother called me from work to wish me luck and to tell me how he wished that he was there to see me off, and said he left some money with my mami. I was so happy! Lol, the middle brother Elvis was there and he was grinning so much haha, told me how beautiful I looked : ) My papi was at work too, so, he saw me the next day in my after party outfit and saw my pictures. What a great night, and thank you to those that convinced me to go. I would've really regretted it.
-------------------------------------------
30 Days Song Challenge/ Day 04: A Song that Makes You Sad:
LINK TO THE SONG/YOUTUBE VIDEO
This was the only video with the song on it. Obviously not the video for the song though. I first heard this on Laguna Beach season 2 when Steven was going away to college and said bye to Kristin. It was such a sad moment and the perfect song for it! Anyway, this song was the anthem to a part of my 17th/18th year of life. And, now when I hear it it reminds me of how strong I am for overcoming those years.
Enjoy your weekend loves! And a welcome to all of my new followers : ) looking fwd to hearing from you!
* con mucho amor, c i n d y.